Barbie's daughter cooks the cake game
Follow us on Facebook and Youtube: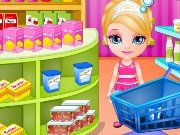 Description: Barbie's daughter cooks the cake
Little Barbie's daughter loves her parents and tries to surprise them with her gifts. At school they are taught to cook meals and do crafts with their hands. Mom Barbie really likes everything that her daughter brings from school. Recently, she made a great doll and sewed a teddy bear. Today, the girl wants to make a delicious cake. To do this, she needs to go to the store and buy a large number of products. She hopes that you will agree to help her with this. First, go to the department with products and choose all that you need to prepare a cake from the shelves. Then you go home and start choosing clothes that the girl will wear in the kitchen to cook a cake. The girl also wants to add fresh strawberries to the cake. She plans to add them at the end.
Once the cake is ready, you need to clean the kitchen. Well, the last but not least is a beautiful card for beloved mother.
In this game you will learn to cook delicious cake with Barbie, buy food at the store and clean the kitchen. Any mother will like these skills.