Baby Barbie in the Fairy Salon game
Follow us on Facebook and Youtube: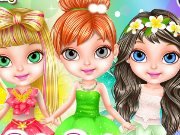 Description: Baby Barbie in the Fairy Salon
Baby Barbie loves fairies. She believes that these magical beings good and work wonders. She firmly decided that she wanted to become a fairy. But this girl needs to grow. In the meantime she can just go to a salon fairies. Here she can make a perfect hairstyle, make up and choose an outfit. Thus it will be very similar to one of the fairies. This idea Barbie very much. Let's join her and help the girl to get closer to her dream.
How to play:
it is a beautiful game about a little Barbie, who wants to be a fairy and goes to the salon, where the works fairies. Use the mouse and hints in the game to change hairstyle and appearance of the girl and make her into a fairy.