Elsa Disney Princess game
Follow us on Facebook and Youtube: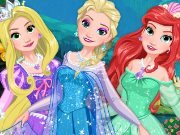 Description: Elsa Disney Princess
Elsa loves to dress up, but she still would like to try to dress so as to be similar to the other princesses. For example, Ariel, Jasmine and Snow White. I think it will be very interesting to see how Elsa from the cartoon "Frozen Elsa" gradually transformed into one of these princesses.
How to play:
in this dress up, you can completely change the look of Princess Elsa and make it similar to any of the Disney princesses. Start with the face and move on to the clothes. Use the mouse for this. In addition to clothing and make-up for the princess, and you can change the background of the game. Try!