Barbie the pony rider game
Follow us on Facebook and Youtube: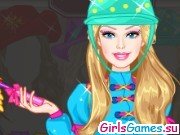 Description: Barbie the pony rider
Barbie loves the sport and active leisure. Since childhood, she has rode horses and she has a lot of medals for winning the competitions. Recently, she has got a new pony for herself. He lives on a farm with Barbie's parents and she goes there every weekend to check on him and ride him. Together they ride along the river and ride the big and beautiful lawn. Our rider already has a large collection of clothing for equestrian sport, and she does not mind you offer her something new. Look at 4 different outfits and repeat every one of them or create a new one.
Control the game only with the mouse.
Played: 61254. Added: 11-10-2014, 23:48.
Play other games from this developer:
egirlgames.net
. Categories:
Barbie