Apple White on Heritage Day game
Follow us on Facebook and Youtube: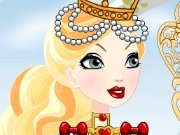 Description: Apple White on Heritage Day
Today is a real magical day! On this day, children celebrate Heritage Day. Boys and girls dress up as fairy-tale characters and tell each other fairy tales about what they have inherited from their parents. Apple White is very happy. After all, she tells a fairytale about her mother - Snow White.
Think of a beautiful and chic costume for the girl. Click with the mouse on the icon to try dresses, jewelry and hairstyles on her. Do not forget about the attributes of fairy tales for the costume.