Miley Cyrus's new make up game
Follow us on Facebook and Youtube: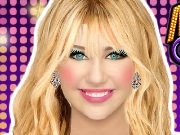 Description: Miley Cyrus's new make up
Meet the new style of Miley Cyrus! What do you thing about? Do you likeeverything? Would you like to add something or change? In this game you can change Miley's makeup, hair and jewelry as you want!
How to play: Press with the mouse on the round button on the right to see what kind of items you can change in the style of the girl. When you finish, then click on the "Finish" button.
Played: 117180. Added: 11-03-2014, 18:34.
Play other games from this developer:
dressupmix.com
. Categories:
Make up