Sue's Magic Room game
Follow us on Facebook and Youtube: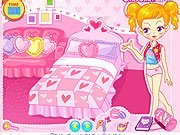 Description: Sue's Magic Room
About game: Morning came, the alarm clock have already rang, it is time to go to school. Sue - a cute little girl, must soon start packing to go to school not to be late. Now Sue is sorry that she didn't put all her things to their places. There is very litle time remained, and all her things are scattered around the room. She will not cope. without your help.
How to play the game «Sue's Magic Room»: In this fun online game for girls you have to help Sue to find needed things before the time runs out. A list of things to find is at the bottom of the game screen. Watch all the boxes, use the found items: keys, a flashlight and a stick to find objects hidden away. The game is controlled with the mouse. Good luck!
Played: 171990. Added: 2-02-2011, 01:39.. Categories:
Sue