Sue: Beauty machine game
Follow us on Facebook and Youtube: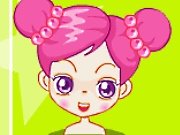 Description: Sue: Beauty machine
Heroine of many interesting online games for girls, Sue - is excited inventor and a needlewoman. She cooks very well, sews and knits. But besides all these things, she can create real beauty. She invented a machine that creates the beauty and style for every taste, you just have to pull the magic lever and see what happens.
How to play the game "Sue: Beauty Machine":
The game is controlled with the mouse. Create an image with the help of a magical machine. Using mouse, click the lever to select one of the moving shape samples of face, eyes, nose, complexion of the body and dress. All is not as easy as it seems, the samples are moving very quickly.
Played: 159903. Added: 11-06-2011, 02:52.. Categories:
Sue