Sue: Meals Serving game
Follow us on Facebook and Youtube: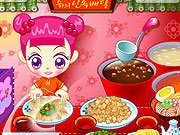 Description: Sue: Meals Serving
Description: Many restaurants and cafes serve food to go. It is very convenient for customers who want to eat restaurant food at home. Special employee packs food for such customers. Our sweet little girl Sue works in a restaurant and packs food. She has very little time, so she needs your help.
How to play "Sue: Meals Serving" There are dishes with various meals,additives for them and various sauces. At the beginning of the game you can see what additives are suitable for each of the meals. You need to put proper additives in each plate. To switch between sauces press the spacebar. To put an additive, just click the mouse on the ladle or kettle and on the desired meal. Good luck!
Played: 149832. Added: 2-02-2011, 01:27.. Categories:
Sue