Adventures with Bratz game
Follow us on Facebook and Youtube: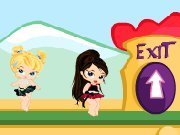 Description: Adventures with Bratz
Adventures with the Bratz: is a fun girl game which is based on the movie Bratz Babyz. Bratz Babyz dolls in one command. Unfortunately, they are lost. They need to find each other, and find toys and their pets. However, pay attention to Duane, because he tries to stop you. To get the extra points, try to collect only good toys. They are marked in blue, and red is better not to touch.
How to play the game:
Use the arrow keys to move the Bratz and the space bar to jump over broken toys. Collect only all the good toys that are painted in blue and avoid red.
Played: 69363. Added: 19-05-2010, 17:23.. Categories:
Bratz