New style Jade game
Follow us on Facebook and Youtube: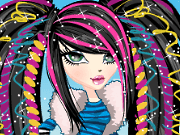 Description: New style Jade
Jade from the Bratz is a future scientist. She spends hours lost in the chemical laboratory and has already achieved a great deal! She also likes to come up with new hairstyles, clothes for herself and her friends. Now she enjoys colorful prints and patterns. It will always be beautiful and fashionable!
In addition, she likes to mix everything! So she came up with a new perfume, a new nail polishes and patterns. As you can see, she has a lot of talent.
How to Play: Jade has a lot of clothes in the closet, hairstyles options and footwear options. Invent a new outfit for a beauty from Bratz.
Played: 60147. Added: 23-11-2013, 16:48.
Play other games from this developer:
StarSue.net
. Categories:
Bratz