Bratzillaz Fianna Fins game
Follow us on Facebook and Youtube: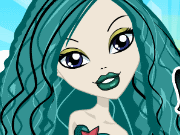 Description: Bratzillaz Fianna Fins
This new doll Fianna Fins of Bratzillaz. She is not just like a mermaid. She has a gift to control the weather on the sea. She has such a complex character! And the most important thing is that the girl is well versed in fashion and there a lot of interesting clothes in her wardrobe.
Surprise Fianna and create her a new outfit from what you will find in her wardrobe. Use your mouse to drag items to dress her. If you do not like your choice, then click on this thing and it will disappear.
Played: 53487. Added: 28-06-2013, 07:10.
Play other games from this developer:
StarSue.net
. Categories:
Bratz