Bratz babies Mall Crawl game
Follow us on Facebook and Youtube: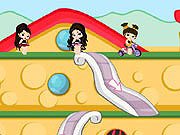 Description: Bratz babies Mall Crawl
Bratz girls left to walk to the mal without asking. And, of course, they have lost each other and they are not able cope without your help. Find all the friends and a puppy, and bring kids from the mall. Beware of Duane, if you meet him, you will lose a friend.
How to play the game "Bratz babies Mall Crawl"
Click on the left and right arrow keys to move. Press the up arrow to use the elevator, to jump, use the spacebar. Baby bottles will give you additional points. Collect the blue toys to earn bonuses, they will also protect you from Duane and his red broken toys.
Enjoy the game!
Played: 51912. Added: 10-09-2012, 23:10.. Categories:
Bratz