Meygana Broomsticks game
Follow us on Facebook and Youtube: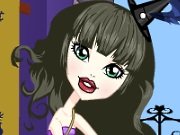 Description: Meygana Broomsticks
Are you familiar with Bratz cousins​​? There is one of the cousins ​​Meygan. This doll is fromseries Bratzillas.
How to play:
Look how many elegant and glamorous clothes you can try on Meygane Broomsticks. Start from the hair, and then work with her clothes. If you want to cancel your selection, then click with the mouse on it.
Played: 43479. Added: 14-10-2012, 21:11.. Categories:
Bratz