Figure Skating Queen game
Follow us on Facebook and Youtube: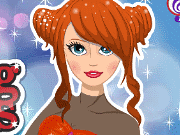 Description: Figure Skating Queen
From an early age I loved this kind of sport and always watched as the beautiful girl skating around on the ice and show interesting tricks with beautiful music. It looks perfect! So I asked my mom to help me with admission to the ice skating section, and now after many years of training my dream is coming true! After all, today is the biggest competition of my life! I can get the best grades and the title of Figure Skating Queen!
All this time, while I was practicing, I could not devote enough time to clothes and make-up. So I'm waiting for your help in this. Can you help me?
At first look what you can do with the skin. Do a couple of masks, apply the scrub. Then you can do makeup and choose hair style and a beautiful dress.
Played: 63612. Added: 16-06-2013, 08:48.
Play other games from this developer:
PoshDressup.com
. Categories:
Make up