American Idol Show game
Follow us on Facebook and Youtube: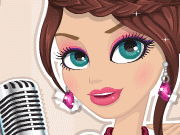 Description: American Idol Show
The show "American Idol" has been running around for 12 years and still stays in the rankings of the most popular shows of America! There are very strict jury on the show. They've seen a lot of talented people and every year they have the higher requirements to the participants of the show. Now you need to surprise the audience and judges not only by a beautiful performance, but also by the appearance.
To find beautiful makeup in this game you will need only the mouse. Use your knowledge in the skin care, choice of make-up, hair and dress selection to create the best outfit for the show!