Best buds game
Follow us on Facebook and Youtube: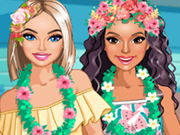 Description: Best buds
In this dress up game, you will meet two of the best girlfriends who rest in the tropics near the sea. There is a magnificent and vibrant nature. Although there are a lot of flowers growing around and you can use them for decoration, these best friends decided to go to a local flower shop. Let us and together with them visit the local flower shop and see what flowers are sold there. In addition, you can choose for girls outfits in the style of Hawaiian dancing or as you like. After I played this game, I already wanted to go on vacation to the warm sea. And you?