Make-up for teachers game
Follow us on Facebook and Youtube: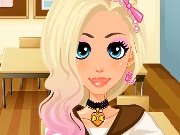 Description: Make-up for teachers
After a pleasant and hot summer autumn comes. It is so beautiful and you want to go out with friends more, but you have to go to school! But even there, you can expect a pleasant moments. These are your friends, and maybe new teacher! Imagine that you have a new teacher. She is very young and wants to look very beautiful!
How to play:
Take a look at a young girl. It's her first day at school as a teacher. First, make a face clean, and then apply the makeup to her face. After that, it's time to look at the teacher's outfit. What d oyou think about a teacher?
Played: 55962. Added: 21-10-2012, 22:00.. Categories:
Make up