Emo hairstyles and makeup game
Follow us on Facebook and Youtube: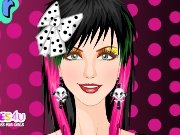 Description: Emo hairstyles and makeup
The right hair and makeup are the most important elements in the emo style. If you're a fan of this style, so be serious to those parts of the look. Hair must be straight, painted, and of varying lengths.
How to play:
think up an emo-style for the girl in this game. Think what looks the best and what she should change in her style. Pay attention to the hair, jewelry and makeup.
Played: 73116. Added: 21-06-2012, 22:51.. Categories:
Make up