Stars of the "Glee" series game
Follow us on Facebook and Youtube: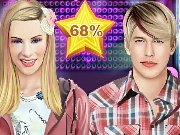 Description: Stars of the "Glee" series
Do you love "Glee" series? This game is just about the stars of this show. Prepare your favorite heroes for a new school party and see how many points they will be given by the judges.
How to play:
pick a new style for the stars of the show "Glee" for favorite celebrity in this dress up game . Choose two of the stars and pick them the cool makeup and costume, and then you will know which of them became cooler. If you want to have fun, then press the "Random" button to laugh about funny images of selected characters.
Played: 47052. Added: 17-06-2012, 13:08.. Categories:
Celebrity