Grooming salon game
Follow us on Facebook and Youtube: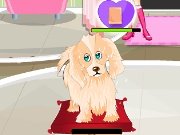 Description: Grooming salon
You are the hostess of the cool grooming salon. People bring here their cats and dogs which style you have to take care of. You have to cut their hair, wash, dry them with the hair dryer, brush them, fed, and do the massage.
How to play:
housewives bring their pets to our salon. Seat animals using the mouset on the seats with a red pillow. You will see clouds over them. These clouds show what you have to do. Look at the locker on the top right . There you will find everything you need to get started. At each level, you have a task. Take care of dogs and cats in this washing game. Make a profit and win the level.
Played: 37710. Added: 27-03-2012, 14:56.. Categories:
Simulators