Capricorns game
Follow us on Facebook and Youtube: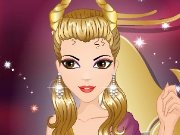 Description: Capricorns
It is said that Capricorns are very stubborn and like to do things on their own way.Therefore, do make-up to make the girl with a very strong look.
How to play:
choose buttons under the images to apply them to the girl. To go to another section click on the arrows below. You can change your hairstyle, skin color, eye color, eyelashes, eye shadow, eye stroke, lipstick, clothes and jewelry.
Played: 52578. Added: 9-02-2012, 13:45.. Categories:
Make up