Hand reading game
Follow us on Facebook and Youtube: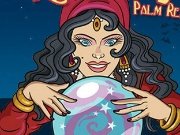 Description: Hand reading
Since ancient times, we know that our hands are fraught with invaluable information, and can tell us very much, you only need to be able to understand them. In this test, fortune-telling game for girls you will meet Madame Mystique, a mysterious fortune teller to help you and teach you to read your hands and hands of your friends. This is game is the best of hand reading games!
How to play the game "Hand reading":
Read the section "How to play",here you will see some short instructions aboutwhere to start hand reading. Look carefully at your hand and try to choose the right answers. Once you have answered all the questions, you can learn more about his character.
Goodluck with the game!
Played: 62046. Added: 14-12-2011, 19:01.. Categories:
Quizzes