Dress Up Winx girl game
Follow us on Facebook and Youtube: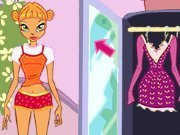 Description: Dress Up Winx girl
Girls from the Winx Club can't manage without your help this time. When you open your closet, then you'll understand why. In this closet you can get lost! This is range of clothes every girl dreams of. There is everything from boots to shoes, shirts and fascinating dresses. Help your Winx Club!
How to play the game: 
In this fun girl game only your mouse can be used. After the game start you'll see the Winx Club girl on the left. Now click on the closet and it will be opened. Try on clothes dragging them to the girl. If you do not like, click then on the arrows painted on the doors (they are two arrows). But it's not all! There is also an opportunity to change the color of the skin of the girl, her hair, the face type and even a swimsuit! To do this, look at the mirror on the left of the girl. Click on the part of the girl body and use the left and right arrows to make a choice.
Played: 61110. Added: 4-06-2010, 18:50.. Categories:
Winx