Bruno the Waiter game
Follow us on Facebook and Youtube: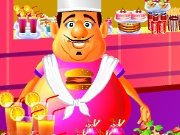 Description: Bruno the Waiter
With this great restourant simulator game for girls you will get to a new restaurant in the city. Bruno is a young chef who found his first job at a new restaurant. But before he becomes a chef, he should start with the lowest career step,he has to learn how to serve food for customers. Bruno hopes that you will help him to serve more customers and earn tips.
How to play "Bruno the Waiter":
The wish of the customer appears in a cloud over his or her head. Click with your mouse on the food on the table and put it on a tray. To serve the customer, just click the tray, and then the customer to serve him or her.
Played: 39447. Added: 30-09-2011, 03:28.. Categories:
Restourant