Popcorn booth game
Follow us on Facebook and Youtube: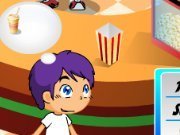 Description: Popcorn booth
You have just opened a popcorn shop. Sell popcorn, drinks, sweet cotton for girls and boys who order it all. To control this fun girl game, we will need only the mouse. First, after starting the game press Tutorial. There you will see how to make popcorn, fish and salad or french fries. After studying push Back and then Play to start the game. Now you start to sell tasty food for boys and girls. They come to the booth and order it. Click on device making popcorn, French fries and juice making machine to sell and earn money! Hurry up, because they are impatient and may leave! For example, to prepare yellow sweet cotton for a girl - click on the yellow sweet cotton and then click on the little girl.
How to play: 
To start the game again, click "Start over". Watch the timer and points at the bottom right. Good luck!
Played: 44397. Added: 4-06-2010, 18:02.. Categories:
Restourant