Save the princess game
Follow us on Facebook and Youtube: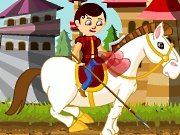 Description: Save the princess
Handsome prince fell in love with a beautiful princess. He dreamed of making hera marriage proposal, but he was craftily prevented. Angry robber kidnapped princess tomarry her. Prince went in pursuit to rescue the princess. Princessleaves little hearts on the road to show prince the way. In our great online game for girls you can help the prince to make his dream come true.
How to play the game "Save the princess":
Click with the mouse on the screen to collect hearts left by the princess. Do this carefully, not being noticed by the robber. To do this, just release the mouse when the robberlooks at the prince.
Played: 61731. Added: 27-07-2011, 10:57.. Categories:
Kissing