Kisses in the classroom game
Follow us on Facebook and Youtube: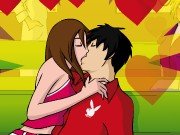 Description: Kisses in the classroom
About game:
Very nice boy and a girl are classmates. They fell in love with each other so they try to show each other love as much as possible. But it is the time to learn. Very strict teacher does not like when his students are distracted, especially for a kissing. Help this beautiful pair not to be caught by the teacher.
How to play online game for girls "Kisses in the classroom:
Notice the red indicator at the bottom right. It is an indicator of love, you have to fill it with kisses during each level. Click and hold mouse to make the boy and the girl start kissing, release the mouse when the professor looks at them.
Good luck with the game!
Played: 153126. Added: 17-03-2011, 14:23.. Categories:
Kissing