Justin's and Selena's kiss game
Follow us on Facebook and Youtube: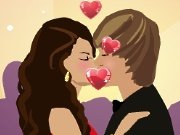 Description: Justin's and Selena's kiss
Selena Gomez and Justin Bieber came to the Oscar award ceremony. It is clear that girl and boy are in love and they want to kiss. There are so many people and paparazzi, who are trying to catch the couple at the most inappropriate moment.
How to play:
pass all 5 levels, choosing moments when paparazzi are not photographing the couple, click with the mouse to make them kissing. With every level the amount of photographers is increasing, they appear more often and you will have less time to pass the level.
Played: 142020. Added: 7-03-2012, 19:17.. Categories:
Kissing