Princesses Home Decor Experts game
Follow us on Facebook and Youtube: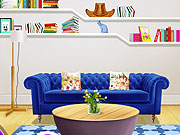 Description: Princesses Home Decor Experts
You all know that living in a beautiful and comfortable home is triple pleasant. In such a house it's nice to wake up, eat and do homework. Therefore, Princess Elsa and Anna decided to try themselves in this matter and began to design rooms. It turned out that this is a very popular service among princesses and now our heroines of the game have many clients. This is certainly good, but they do not have time to do everything on time. At the moment, they need to make two bathroom designs, two living rooms, and two garden designs. Therefore, in this game, your help in choosing the design of the house and rooms for the princesses will be very useful. Show your talent in the selection of furniture, the color of the walls, decorating rooms and gardens. This will be an excellent occasion for you to look at the room where you live and maybe change something in the design or just do the cleaning.
Played: 15129. Added: 12-09-2019, 21:28.
Play other games from this developer:
Capy.com
. Categories:
Decorating