Robert Pattinson's fan room game
Follow us on Facebook and Youtube: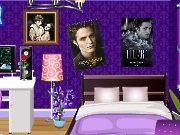 Description: Robert Pattinson's fan room
Do you know this actor? What do you think about his role in the movie "Twilight"? If you like this actor, this room designing game will be a great gift for you! There is so much devoted to the star!
How to play game:
Press with the mouse on the buttons to start decorating the room, and you'll be able to decorate anything in it.
Played: 67014. Added: 20-08-2012, 11:30.. Categories:
Decorating