Barbie Glam Face Art game
Follow us on Facebook and Youtube: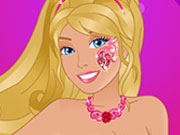 Description: Barbie Glam Face Art
Barbie is a very popular and modern girl. She always knows what is fashionable now and what will be the best for her to go. Recently, our fashionista tries to apply face art. It turns out that this new fashionable make-up looks very much to her and in this game, Barbie wants to choose a face-art for herself. She decided that she could use it for ballet, performances on shows and at noisy parties with friends. Join us to learn how to apply face art and make
Barbie
nice. To get started, choose one of our blonde outfits. Next, you are invited to choose the design of the picture, and then you can begin to apply it on the face. Use the brush to draw the outlines of the drawing, and then select the paint to make the drawing come alive.