Barbie the Sports Star game
Follow us on Facebook and Youtube: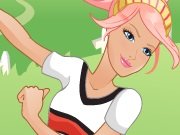 Description: Barbie the Sports Star
Barbie loves to play a variety of sports. And surprisingly, it's the fact that she loves football. She does not only actively play for her school football team among girls, she also often makes the company for the boys! Sometimes she can score more times than boys! This makes her quite valuable player.
Let's choose a beautiful and comfortable clothes for the football game for Barbie the sports star. Click with the mouse on the sections with objects and drag them to the girl. Try to come up with different options of fitness.
Played: 51651. Added: 21-02-2015, 08:06.
Play other games from this developer:
StarSue.net
. Categories:
Barbie