Disney Fashion Runway game
Follow us on Facebook and Youtube: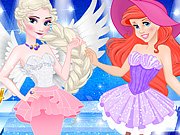 Description: Disney Fashion Runway
Hi! Do you love fashion? And Princess Ariel and Elsa? These two girls are supermodels, and today they can start a fashion show. This is a very crucial moment. Must be nice to go to the podium and be able to behave. It is also important to choose the best hairstyle and dresses. So our Princess nervous. They need help and they hope you give them help.
How to play:
in this Disney Fashion Runway game you will be able to help two new supermodels Elsa and Ariel to look chic on stage. Use the mouse to select one of Disney princesses, and then choose outfits for them.