Riley Hide and Seek game
Follow us on Facebook and Youtube: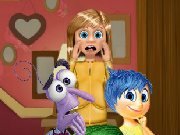 Description: Riley Hide and Seek
This is a game with heroes of the animated film "Inside Out". Riley and her friends always have fun. Today, Riley got bored and she decided to play hide and seek with her friends. Joy, Sadness, Disgust and Fear will hide things in the room, and you can help Riley find these items and win the game. You will stop the Anger. Watch for an exclamation mark and Riley hide behind the chair. Once the Anger goes away, then go back to the search of objects in the room.
How to play: in this game you will help Riley in searching for hidden objects. Press the mouse on all the items that you see in the pane below.
Riley Hide and Seek game walkthrough: