Peppa pig room decor game
Follow us on Facebook and Youtube: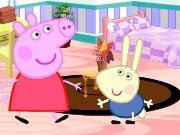 Description: Peppa pig room decor
You have your own room? At home to peppa pig it was not. Recently, the family of pigs have moved into a new house and now home to peppa got his own room! It's so nice when you can put in your room anything you want and as you want. Peppa always wanted in her room was new and beautiful Wallpaper, comfy bed, beautiful curtains on the Windows and a cool table near the window. Peppa pig is so excited for all this that are confused and do not know what she should put. Will you help her in this?
How to play:
is a game of placement of furniture in the room, home to peppa pig. Use the mouse to put all the furniture in the room and surprise the pig is his mastery of the placement of furniture in the room.
Played: 36099. Added: 18-10-2015, 01:50.
Play other games from this developer:
PlayBelle.com
. Categories:
Decorating