Barbie Super washes her cat game
Follow us on Facebook and Youtube: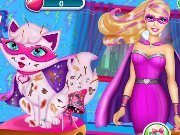 Description: Barbie Super washes her cat
Super Barbie is very busy catching the villains who are very afraid of her. As you know, the super girl has the cat that walks by himself while his mistress is busy with the big things. This cat is very independent, but loves to get dirty. So often he needs to pay attention and to bathe. But Super Barbie no time. Let's help both of them and wash the cat!
How to play:
in this game you will be able to help the girl to wash her cat, who leads a very active lifestyle. Clean the wool, wash it and then comb through. Make it very clean and neat seal.