Bratz - the room for a party game
Follow us on Facebook and Youtube: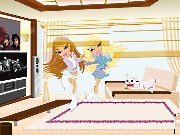 Description: Bratz - the room for a party
About game:
Tonight will be a grand pajama party at the Bratz girls wonderful house. All their friends are already invited.There will be pizza, sweets, lots of ice cream and lemonade. Only music, girl talking and entertainment, and most importantly, no parents. But before they start, they have to prepare everything, because there is such a mess in thir room. Help the girls to put everything in its place before the party starts.
How to play the online game "Bratz - the room for a party:
Arrange furniture, equipment and other items in their places in the room. To do this, drag the items on the game screen by your mouse.
Good luck!
Played: 53406. Added: 27-03-2011, 12:57.. Categories:
Bratz