Bratz - a mess in the room game
Follow us on Facebook and Youtube: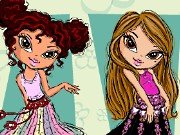 Description: Bratz - a mess in the room
About game:
Bratz girl needs your help. Tonight, she goes on a date with the most handsome guy in school. She has already figured out what to wear for the occasion, but it's not all. There is such a mess in her room, she lost all her stuff and can not find it. Help her to find everything she needs quickly.
How to play the game "Bratz - a mess in the room":
Play with your mouse. You can choose any of the four Bratz girls: Chloe, Sasha,Yasmin and Jade. At the beginning of the game you see on the screen the image of how Bratz girl wants to wear. Try to remember this picture. Then look for things throughout the room, look into allcabinets and boxes. You have only 75 seconds to find things. You can also look at the picture three times, but only for 3 seconds.
Good luck!
Played: 52443. Added: 27-03-2011, 11:48.. Categories:
Bratz