Hairstyles for Becky G game
Follow us on Facebook and Youtube: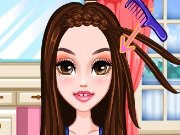 Description: Hairstyles for Becky G
You know Becky G? She is an American singer and dancer. Became popular after the publication of videos on youtube.com. Let's choose her hairstyle and create it. She has a lot of concerts and starred in music videos. Therefore, it pays great attention to their appearance and hairstyle.
How to play:
in this Becky G game game we will create a new hairstyle for a girl named Becky Gee. So, let's begin! Wash her hair. Then apply the shampoo on her hair. Wash it and apply to hair conditioner. Then you can choose one of three examples of hairstyles and create it. Follow the simple step by step instructions and you'll have a great and beautiful hairstyle for girls.