The snow princess game
Follow us on Facebook and Youtube: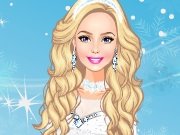 Description: The snow princess
Who is this? In a beautiful white dress, with white hair and dazzling with white ornaments? This is snow princess. This young and cute little girl glad that the snow kingdom elected her princess snow. Thanks to her, there is snow in the woods, on the streets and in general throughout the world. Let's make her a gift and choose the appropriate attire. This dress, hairstyle, shoes and jewelry. It will be very happy!
To play this dress up all you need is a mouse. Press it on whatever you want to try on the beautiful princess and her talent raduyte choose dresses and hairstyles.
The snow princess game walkthrough: