Floral wedding game
Follow us on Facebook and Youtube: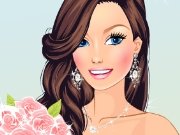 Description: Floral wedding
Our bride is the most beautiful and the happiest on this day. All girls dream of getting married. They dream to have a beautiful dress, jewelry, and this day to be the sunniest and memorable. This girl loves flowers so she wants her wedding dress was decorated with more beautiful flowers.
How to play:
Use the mouse to select sections in the locker and Try them on by clicking on them. You can change the background of the game by pressing the BG button. If you want to start over, click Reset. And if the bride is ready to be shown, then click Show button.
Floral wedding game walkthrough: