Kisses in the park game
Follow us on Facebook and Youtube: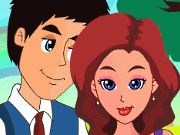 Description: Kisses in the park
Lucy and Billy on a romantic date on nature for their favorite spot under a tree. They want to stay together as long as possible and kiss again and again. But other people, animals, prevent them and do not let them do it. Help the cute couple is not to be seen at a time when they kiss. As soon as they can interfere with someone or see it immediately warn the couple. To complete the level and move to the next you have to make light kiss was complete and it must be done in due time.
Controls: mouse clicks on a pair boy and girl kissing and release the mouse if one of them can see.