Preparing for a job interview game
Follow us on Facebook and Youtube: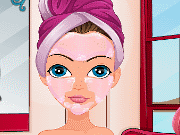 Description: Preparing for a job interview
A beautiful and attractive girl has just finished studying and is going to a job interview in the bank. This is a very solid job and so she needs to impress all who will judge her on the interview. Therefore, she needs to go to a beauty salon and do something with her appearance. Here she will clean her skin, make a mask for the face, pluck eyebrows and remove blackheads. Then she will pick a great make-up and choose a chic outfit.
How to play:
Use the mouse and make everything to make judges give a job to this girl!
Played: 86148. Added: 27-01-2013, 12:27.. Categories:
Makeover
Preparing for a job interview game walkthrough: