Halloween party game
Follow us on Facebook and Youtube: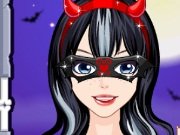 Description: Halloween party
This girl loves the holidays, and especially the ones where you have to dress up, wear costumes and have fun! She likes Halloween Most of all. Here she can apply her skills of choosing makeup, clothes, jewelry, and amaze her friends with her skills.
How to play:
Look how much hilarious stuff is there in a locker of this beauty. Think of what dress, makeup and jewelry to choose her to become the best at the Halloween party!