Golf course design game
Follow us on Facebook and Youtube: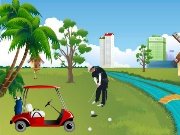 Description: Golf course design
Someone once said that all people have the talent. Justin Bieber is talented at music, Tiger Woods is talented at golf.
Maybe you are good at Thinking up the design of a golf course? Come check it out now. There is a green lawn with a beautiful sparkling river in front of you.
How to play:
click on the arrow at the bottom of the screen to change the objects. If you want to put it on the picture, then click on it. Then you can change its position on the field with the mouse. As you finish, then click on the "show" button and you'll see the result.