Secrets of your handwriting game
Follow us on Facebook and Youtube: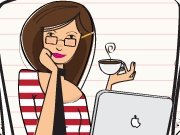 Description: Secrets of your handwriting
Handwriting is not just a means of writing the letters. The handwriting is differentfor each person. Of course, you can change it, but consciously. Without hesitation, people will write in their own way. Every line, every letter and character, written by human hand, talks about person's character. There is a special science called graphology, which studies the handwriting of people. In our quiz game for girls you will know what your own handwriting says about you.
How to play the "Secrets of your handwriting" game:
It's very simple. Answer the test questions and find out what your handconceals. If you are not sure of the result, you can take the test again.
Played: 43866. Added: 29-11-2011, 16:18.. Categories:
Quizzes