Dancing queens game
Follow us on Facebook and Youtube: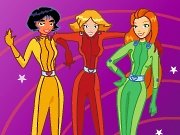 Description: Dancing queens
Totally Spies Girls are real spies. They can really relax not so often. Special agent's work does not involve weekend. But today, the Totally Spies girls have a free day and they decided to go to the dance.
How to play "Dancing queens":
The game is controlled using the keyboard. At the top of the screen are sailing letters and arrows corresponding keys on the keyboard. When a letter or an arrow will get to the heart, you have to press the corresponding key. If you make a mistake, then one of the girls will fall. If all the girls fall, game is over. The game gradually becomes more complicated, be careful.
Played: 52362. Added: 19-10-2011, 21:51.. Categories:
Totally Spies