Cuties Candy Makeup game
Follow us on Facebook and Youtube: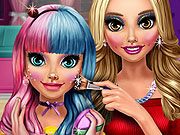 Description: Cuties Candy Makeup
These two young girls love a bright style and he really suits them. In this game you will be able to create a candy make-up for two beautiful sisters who love to be bright. As in the makeup and in the dress. Today they visited a beauty salon where they do just such a make-up as they like. Join them and have fun. At the very beginning of the game, you can choose one of the girls to create make-up for her. Then you can start picking up jewelry and outfit. Choose different combinations and create the image for girls that they like.