Make up for a Mermaid game
Follow us on Facebook and Youtube: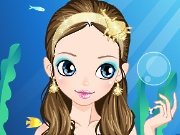 Description: Make up for a Mermaid
Do you think there are a little jewelry under the water? Certainly not. There are shells, pearls and jewelry from the sunken pirates' ships.
How to play:
Get to work with makeup and ornaments for the princess of the underwater world. Feel free to try different options for costumes and decorations, choose a couple of outfits for different occasions.
Played: 47700. Added: 5-05-2012, 09:03.. Categories:
Make up